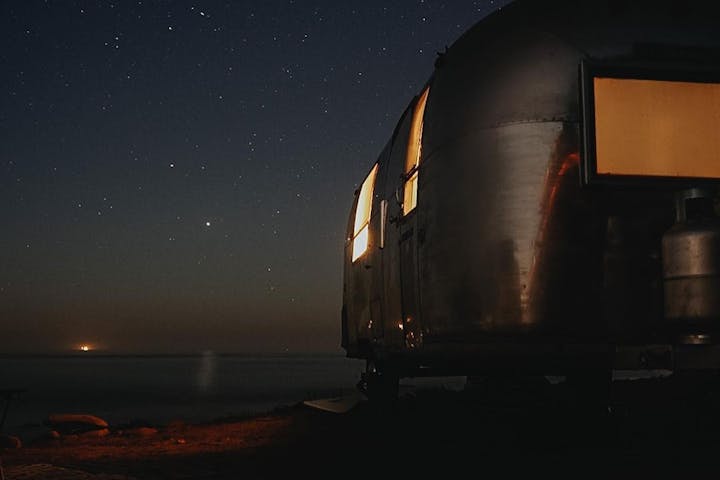 tiny homes
1968 Airstream becomes a modern minimalist space
---
25 years ago, August Hausman father received a Airstream Land Yacht for his 40th birthday which has now been revived & refurbished with a beautiful modern and minimalistic touch.
A musician as well as an interior designer in his own right, August saw an opportunity. "I thought it was a gem and I don't think my dad had a plan to do anything with it, so I asked him if I could take it off his hands.". His plans started with making this an Airbnb rental but after deciding to move from LA back to his roots in Ojai his plans changed and he decided to make this his full time tiny home.
AD
We have partnered with freebitcoin to allow you to win up to $200 of bitcoin absolutly free, plus extra exclusive bonuses!
Enter for free
It was, however, a project before it became a home. August had planned early on to do it himself because the trailer required a lot of work. He started by stripping the interior down to the studs and subfloor then hauled the trailer from the lot where it had been sitting abandoned for a decade to a friend's tiny-home shop in Ventura, California, to borrow some equipment when it was down to the bare bones.
"I wanted it to feel like an old airstream, just with a refreshed new face. So I decided to start with white and have only one wood tone, walnut"
August, who has been living in the "Airstream Haus" for over a year, says that although it's difficult to live in such a small space, it's worth it at the end of the day with s a distinctly modern, almost minimalist look, but the spare design keeps a small space from feeling cramped.
"You realize what things you need and what things you really don't. The things that you do use, you want them to be special."
Since August's Land Yacht is only 23 feet long, there is no separate bedroom. Instead, a queen-size bed in the main living area hides storage underneath, and can be configured as a couch or a daybed. In the bathroom, the original hulking fiberglass combination washbasin and shower was replaced by a composting toilet and an open shower.
To see more, check out the video below. If you would like to learn more about Airstream house you can find them on instagram @airstreamhaus.