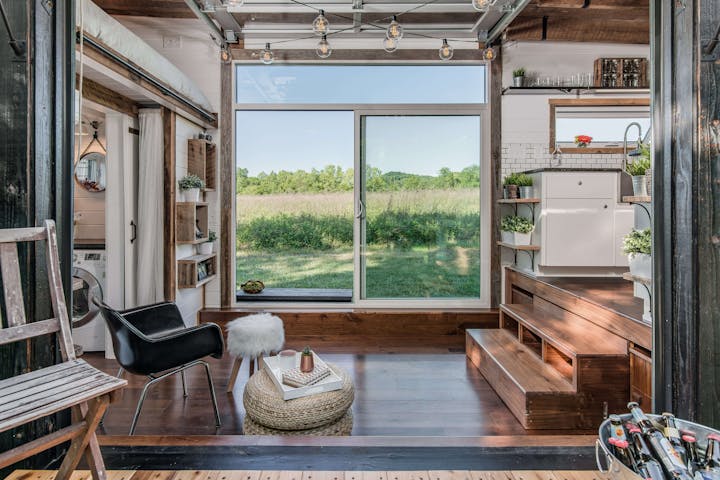 tiny homes
Tiny house with a touch of luxury
---
Want to make your tiny house feel bigger? Open up the walls on the Alpha tiny house & bring the outside in. We'll give you a run down of what you need to know about this premium tiny house on wheels.
This offering is one of New Frontier Homes flagship product and is an application of both creative resourcefulness and craftsmanship, blending the inside and out together with dual full size garage doors and fold out patio to create a stunning breezeway.
The square footage totals in at 246, and contains a bathroom, kitchen, bedroom and fold away dining area full of multi-purposeful furniture and smart storage.
Dimensions of the Alpha are 26'L x 8'6"W x 13'6"H, and the total weight comes in at 15K lbs which is considerably lighter than a lot of goose neck trailer tiny homes.
Founder, David Latimer & his team pay close attention to the details when building tiny homes all the way from trailer choice, to materials choose and the Alpha comes furnished with amenities including a Fisher Paykel Hidden Dishwasher drawer, 11 cu ft. Stainless Steel Fridge, 33" Stainless Steel farmhouse apron sink and even a Jacuzzi tub and shower.
The tiny house can sleep 2 people comfortably, while having the ability to host up to 8 people with fold away dining area which transforms the central space in mere minutes.
AD
We have partnered with freebitcoin to allow you to win up to $200 of bitcoin absolutly free, plus extra exclusive bonuses!
Enter for free
The Alpha is decked out with premium materials including charred Shou Sugi Ban cedar, Red Western Cedar & reclaimed barnwood, along with high end metals & tempered insulated glass awning windows.
The turn key price of the Alpha is $95,000, and while there are many cheaper options on the market, very few will have the level of craftsmanship & I build quality that New Frontier Homes pour into their products.
Check out the video below to see more.