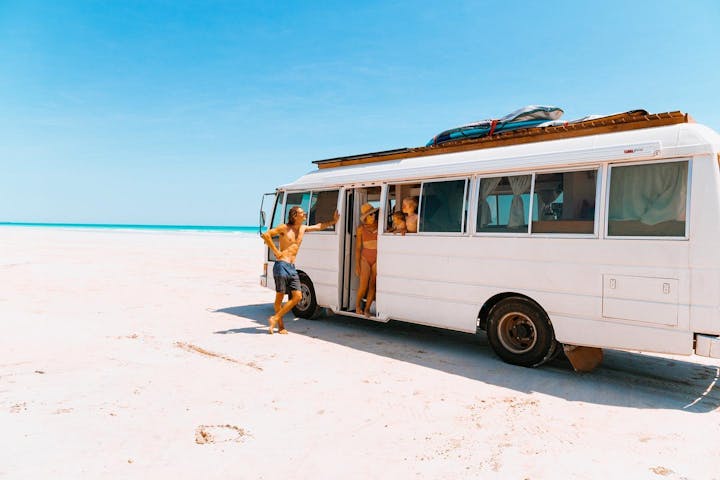 vandwelling
Whole family lives aboard 1984 Nissan Civilian Skoolie
---
Meet the 'Slowly Salty', an Australian family of four, adventuring around living full time in a converted Nissan Civilian Bus!
Originally based out of Adelaide in South Australia, Kallie and Dylan Bergamaschi are currently taking one giant lap around the continent with their boys in tow. Kallie, a home designer, and Dylan, a concreter, converted a 1984 Nissan Civilian bus into a 120-square-foot living space, and then hit the road with 4-year-old Lincoln and 10-month-old Zephyr.
 They began our journey into this all in late 2017 getting a taste for freedom and adventure on our honeymoon through the Canadian rockies with a trip to Hawaii on the way home.
On arrival back home we decided that societies idea of normal living was not our own, fast forward two months and after some scouting we had found the shell of our ideal new home or as we affectionately call her now 'Nelly'.
"We had absolute blast and learnt so much about each other and this beautiful land we call home."
AD
We have partnered with freebitcoin to allow you to win up to $200 of bitcoin absolutly free, plus extra exclusive bonuses!
Enter for free
When building out the mobile home, their focus was to boost space and make living simple. Kallie and Dylan needed to get innovative with the format and capacity. They added shrouded compartments to stow every one of their possessions—tucked under the couple's bed are worked in drawers and a feasting table that slides out.
Extra drawers under the banquette store the young men's attire. The dozing billet incorporates a rack for books, and overhead stockpiling in the front of the transport holds bedding and bigger different things.


You can follow their adventures on instagram @slowly.salty