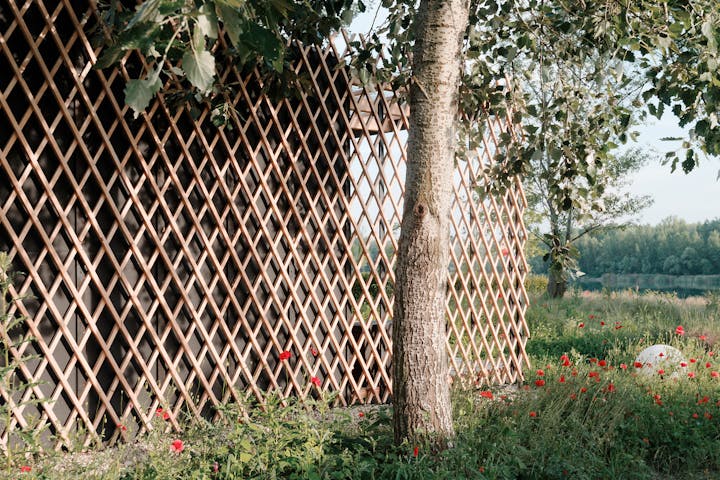 yurts
Modern Hybrid Yurt Cabin
---
Wondering how a yurt, crossed with a modern minimalist cabin & slathered in beautiful wooden lattice would look? Well wonder no further!
Meet 'Attila' a modern yurt styled cabin, designed by JRKVC for a cosmopolitan creative couple working in Bratislava as a weekend retreat to escape this city and relax in nature.
Photography: JRKVC / Peter Jurvic
AD
We have partnered with freebitcoin to allow you to win up to $200 of bitcoin absolutly free, plus extra exclusive bonuses!
Enter for free
The could own a small piece of land on the side of Vojčian Lake. They specked project brief delivered to JRKVC which required the home to take cues from traditional yurts and merge them with a contemporary flavor.
It would be primarily used for vacations but would sometimes be needed for client meetings, so a natural and bright feel was required as well as the ability to close of area of the house.
Photography: JRKVC / Peter Jurvic
Photography: JRKVC / Peter Jurvic
Attila sits at around 480 square foot, with a yurt inspired circular shape and open central living space complete with the trademark skylight you find in most yurts, filling the space with natural light which helps give the illusion the space is bigger than it really is.
Unlike typical yurts, the space on each side of the circular shape has been filled in to create space for a bathroom bedroom, kitchen and storage area.
Instead of adding more volume to the main round one we decided to cut the circular space out of a square one. The main living areas sit beneath this central dome. Referencing medieval fortification architecture with room filled stone walls, we used the residual spaces for the remaining program. Built-in shelves hide a compact kitchen on one side and a bunk-bed bed on the other.
Photography: JRKVC / Peter Jurvic
Photography: JRKVC / Peter Jurvic
There is a alcove double bed, a built-in reading nook, even bathroom in a cave like space accessible by a curved corridor. The exterior is a pragmatic black box, wrapped in a layer of timber lattice panels. Those are extending above the roof level, a gesture that gives the house a sort of airy, unfinished, but still very geometric presence.
Photography: JRKVC / Peter Jurvic
To see more of this unique modern style yurt, check out the video below, and you can also view more projects from JRKVC on their website here.