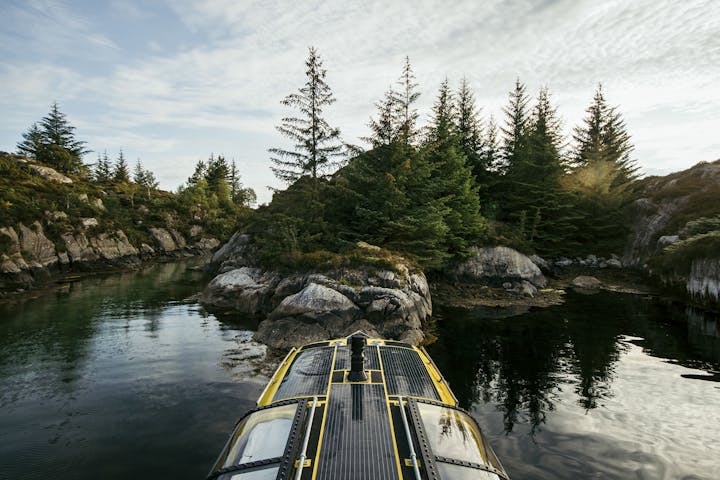 house boats
Repurposed Lifeboat turned into Adventure Home
---
Two best friends re-purposed a Norwegian survival lifeboat, into a self sufficient expedition home to sail from UK to the Norwegian Arctic in for the adventure of a lifetime.
Built in 1997 in Norway,Stødig (meaning sound and steadfast) spent her previous life as 100 man Lifeboat serving the Western Isles of Scotland aboard the CalMac ferry, MV Clansman. She was a robust, unsinkable and spacious blank canvas for the experienced architects to work with.
"Stødig exemplifies a lot of things I am passionate about: adventure, self sufficiency, sustainability and a dogged determination to explore remote places in new ways."
AD
We have partnered with freebitcoin to allow you to win up to $200 of bitcoin absolutly free, plus extra exclusive bonuses!
Enter for free
Guylee Simmonds and David Schnabel bought a marine survival lifeboat in February 2018 and after a year long conversion left on four month voyage to the Arctic. Along with Shackleton, Guylee's dog, they travelled from the UK to Tromsø, far north in the Norwegian Fjords. Situated at 70onorth, Tromsø is the largest city in the Arctic and having arrived, the lifeboat and crew are spending the winter there, and exploring their surroundings.
The aim of the expedition is to explore this wild and isolated landscape, demonstrate the ability of design innovation to facilitate self sufficiency in such extreme environments and to document and share the adventure through photography and film.
They have documented the build process and first expedition thanks to David's passion in landscape and adventure photography, he is recording every stage of the project. They are also lucky enough to have filmmakers COPA and Febril, notably Jonny Campbell making a feature film of the conversion.