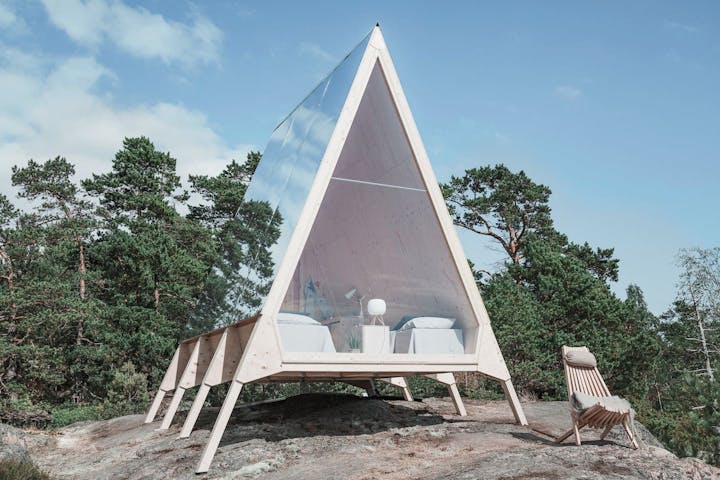 cabins
Tiny Eco Friendly A-Frame Cabin
---
Meet Nolla, the small but cozy, fully off-grid & sustainably built cabin, tucked away on a remove island in Finland.
Nolla, meaning 'Zero' in Finish is the name given to this zero waste cabin which was build from locally sourced pine & required absolutely no heavy machinery, keeping its carbon foot print as minimal as possible.
Hidden away on Vallisaari island near Helsinki, the tiny cabin has to be access by boat and is available for guests to stay at a very affordable rate and all profits from guests are donated to The Ocean Cleanup.
AD
We have partnered with freebitcoin to allow you to win up to $200 of bitcoin absolutly free, plus extra exclusive bonuses!
Enter for free
Created Finnish by Robin Falck for renewable energy company Neste originally as party of their 'Journey to Zero' concept which is to explore carbon neutral ways of living.

The two main goals for Robin with the Nolla was the build a small living space with minimal CO2 emissions along with experimenting on ways to live a more minimal less wasteful lifestyle in harmony with nature.
The total space of the cabin totals in at 9m2 which is essentially a small bedroom with a small cooking area. Focusing mainly on the outdoors its usually all guests will need.
There is a small solar panel on the side which allows you to charge a mobile phone or use basic electrical appliances and a huge open triangular window giving you a breath taking view.
Others features include the ability for the cabin to be both assembled and taken down and moved around with ease, and the Wallas stove, reserved for cooking and heating, runs entirely on "Neste MY Renewable Diesel™", made 100% from waste and residue.